Remote work is the future of work, at least according to a 2021 McKinsey Global Institute report. This drastic change in how we treat work has massively influenced the way we've laid out our spaces at home.
Now that we're more than two years into the work-from-home setup, there's still a lot to unpack and master when it comes to successfully creating energizing workspaces at home. In this article, we discuss all about light fixtures for effective home office designs. Why lighting, you ask? Let us explain.
Why Lighting Matters in Home Office Design
More often than not, creating an effective space for your home office will rely so much on how you treat and manage light. It will set the ambiance, create zones for your tasks, and add character that will make your space personal and unique.
So if you're still missing out on how light fixtures can elevate the look and energies in your workspace at home, we've listed down a few recommendations from Oaklane's selection of elegant statement light fixtures for your home office.
Get in the zone with Mirai
Workspaces should be designed to encourage concentration and creativity. When you get your layering right, light fixtures can help create zones for your home office.
A single overhead source can ensure that you'll get a fair amount of light for whatever work you need to do. A floor lamp in a dark corner can mark a seating area for when your eyes are tired from facing your screens. A table lamp like Mirai can supplement your lighting needs for more focused tasks.
Go for well-built and versatile pieces like Maitha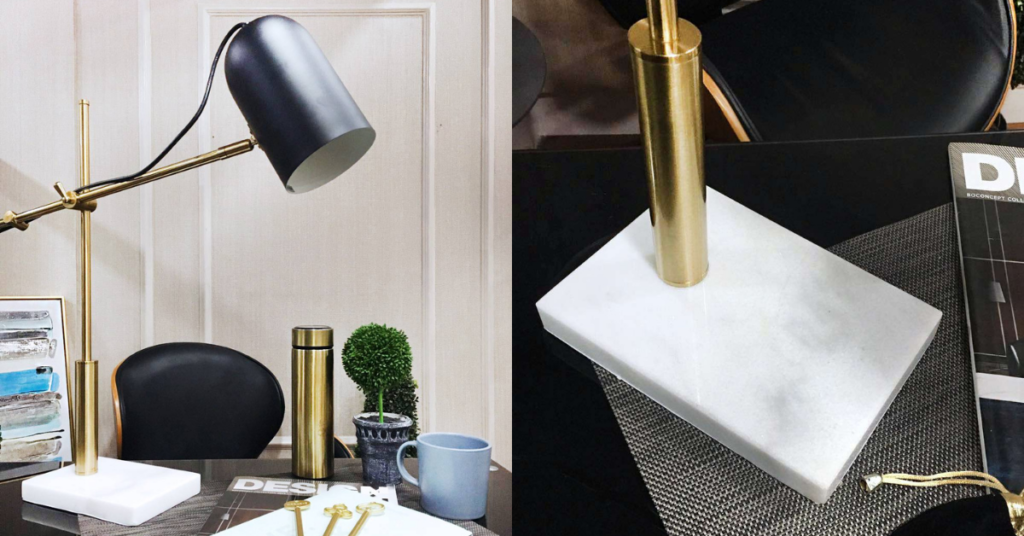 We've been obsessed about creating aesthetically pleasing home offices since the dawn of the pandemic. But in a sea of cheap and off-the-rack home decor, you can rarely find durable pieces that will last through time.
If you really want to invest in good lighting, pick well-built and versatile pieces that are sturdy and made of quality materials. The Maitha task lamp in black, for instance, is made of high quality metal with a white powder-coated metal shade, a gold-embellished body, and a white marbled base.
Never go out of style with Shera
Classic home decor often gets its endearing appeal from great lighting. A minimalist Scandi-inspired home office would look barren and hospital-like if natural or ambient lighting is not intentionally put together.
To avoid committing this mistake, throw in a classic lighting fixture such as the Shera task lamp in white. It's metallic finish balances out the softness of the piece and adds a little drama to your preferred classic look.
Explore character and color with Carmen
Picking light fixtures for your home office doesn't need to be too serious or professional. It's still your personal space, so feel free to inject your character to the room.
The Carmen task lamp has become a favorite as it comes in a variety of colors that will match your unique personality. Its pop of color can inspire creativity and brighten up your mood, and it can also go well in different occasions when you need to spruce up your home office for events or celebrations.
Spark creative conversations under Luna
If your work requires a lot of big brain thinking and birthing ideas into the world, accessorizing your home office with statement pieces can help spark your imagination.
If you're in an industry that requires you to have one-to-one conversations in your home workspace, accent lighting pieces can also set the tone of the conversations you'll have in the room.
So don't underestimate the power of artsy lighting fixtures like the Luna pendant lamp. Give yourself something inspiring to look forward to as you come into your zone of genius.
Get a Home Office that Works with the Right Lighting
At the end of the day, decorating your home office still boils down to your personal preferences. However, there are technical considerations that you should not neglect to make sure that you are creating a delightful and energizing space for your work.
Browse more of Oaklane's stylish, statement light fixtures that will fit right in your home office. 
---
Join our newsletter to get updates on new products and the latest blogs for home improvement!
SUBSCRIBE