Every year, February becomes a month of romance. There comes the romantic exchange of gifts, sweet letters, and declarations of love. To give the occasion that extra oomph, you'd wish to make home improvements that will transform your space from zero to romantic real quick.
In this quest, you might think of incorporating lots of red, white, or pink all over your house. The problem is, you would not want your space to look like Cupid spewed up all over it with that color scheme.
Here are the top three color schemes most recommended by Oaklane for you to try this Valentine's Day. These home decorating styles will surely give you a romantic home design that you and your beau will love—without the well-worn color of love we've come to know.
Classic Gold
Gold is one of the top choices when it comes to romantic home decor. It is a classic color that exudes subtle elegance. Gold brings a warmth that can be related to love and illuminates the place around it.
To make your home design appropriate for Valentine's, try adding gold accessories to your home. Oaklane's Gold world map will add a wondrous rustic feel to your living room, dining room, or even your bedroom. The expansive 120x80cm decoration will allow you and your partner to dream and talk about the places you'd love to visit together one day, over a glass of red wine.
Because of the representation of time, Oaklane's Aurora white hourglass will add a sentimental feel to your home. This 20.5 centimeter-tall decorative piece is a dainty accessory on top of a stack of your favorite books or in the middle of your framed family photographs.
Another important element in making your home look romantic is lighting. You can get more information on this topic through this link.
Vibrant Green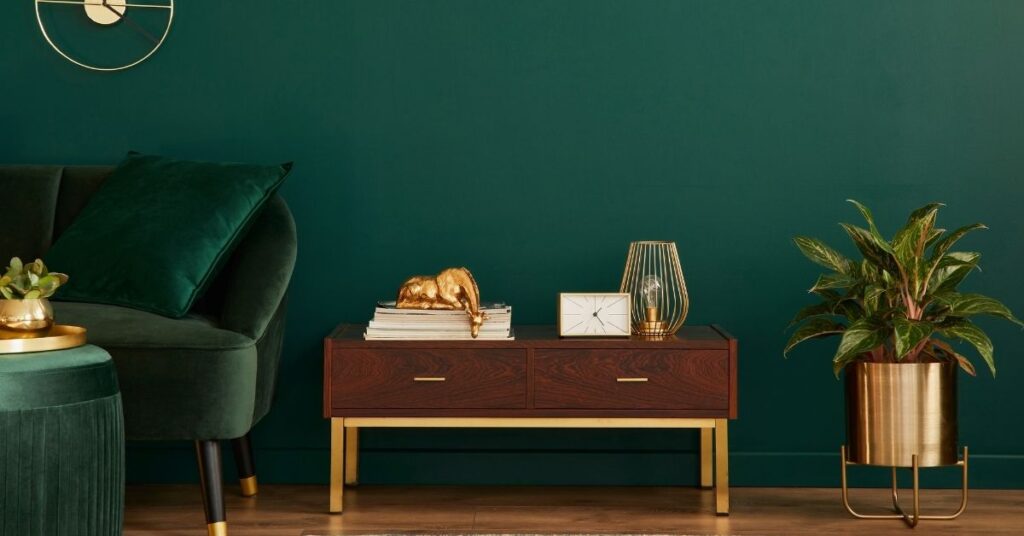 Chakras are the main energy points in the body, and according to ancient traditions, the heart chakra's color is green. Furthermore, the color green symbolizes growth and nurturing, both of which are related to love. This is why Oaklane chose green as one of the alternatives for romantic colors.
Take for example this Palmetto pillow from Oaklane. This simple yet attractive home decor will bring you and your loved one a slice of nature at home. This exotic-looking, soft throw pillow will sit perfectly in the corner of your couch or at the center of your bed, bringing your home a feeling of peace, comfort, and romance. Drape a white silk blanket over your furniture for a more romantic home decorating style.
Our Yucca box is the perfect organizer that nails down romance and sophistication. This circular organizer with delicate leaf prints that mix green, blue, and pink finishes off with an exquisite floral theme that's appropriate for Valentine's home design. Place the Yucca Box in your vanity closet and use it as storage of your favorite pieces of jewelry from your beau or as a decorative element on your coffee table.
Elegant Gray (Lambo, Glena)
The color gray might seem an odd choice for a romantic color, but finding its perfect hue will give your Valentine's home design an elegant calmness and stability. For your romantic home decorating style, choose a lighter gray that is closer to an illuminating silver rather than a depressing dark gray.
This soft and furry Lambo pillow will add a cozy yet romantic element to your bedroom or reading nook. Its fuzzy texture is a welcome break from all the smooth perfection of your home decor. For a fun play on your throw pillows, you can actually put your Lambo Pillow and Palmetto Pillow together on your sofa.
Use Oaklane's Glena box for a touch of unmistakable elegance. This Sullivan-mirrored decorative storage box screams of luxury and romance. Place it strategically across a mirror or under accent lighting to maximize its reflective effect. The Glena Box is too pretty to be hidden in your vanity. Instead, use it as a decorative piece in your foyer or on top of your console table in the living room or dining room.
Get In With The New For Hearts' Day
For a Valentine's-themed home design, you don't have to stick to the typical reds and pinks. Gold, green, and gray are three romantic colors that are more versatile and can be used all throughout the year.
Offering high-quality, stylish decor for contemporary Philippine homes, Oaklane is a trusted source for all things classic and romantic. Have a home improvement dilemma we can help with? Contact us today.
---
Join our newsletter to get updates on new products and the latest blogs for home improvement!
SUBSCRIBE