The rainy season is upon us. Although it's a welcome break from the sweltering heat we've been experiencing for several months now, the consistent downpour doesn't always bring the most pleasant of feelings at home.
In this article, let us guide you through a quick home improvement idea that you can apply to your home decor for the rainy season.
Rainy Day Decor You Can Play Around With
Featuring some of our best pieces that you can transform into rainy day decor, get ready to breathe life back into your living space.
Drop some eye candy around with metallic light fixtures
When it's rainy, your house is enveloped in darkness. It may be cozy for some, but the feeling quickly fades away and gloom starts to kick in. Another downside is that shadowed areas of the house give off the vibe that you're clumped into a very small space. As a solution, brighten up dark corners with Oaklane's acclaimed light fixtures—and for extra oomph, go for the metallics!
Metallic light fixtures double the goal of illumination because its shiny exterior bounces light off to the surfaces. The Mirai table lamp can be the perfect decoration for your corner coffee table. If you want to add a rustic feel to your living room, you can try a quirkier home decor trend with the Luna pendant lamp, which is designed to look like a caged bird.
Tease your senses with scented candles
Placing scented candles all over your living room is a small change that gives a big impact on your rainy day decor. You can place it on your center table, along the windowsill, or even on a dark corner. Scented candles will not only add illumination to your living room, but they will also take away the musty and damp scent of the rain. Not to mention, it adds a sense of comfort and relaxation to your home!
Trust Oaklane to give you the best options for candle holders. We have a number of exquisitely designed candle holders for your consideration—pick your favorite, or better yet, collect them all!
Bring fresh vibes to your living space with houseplants
Bring nature into your home by adding houseplants in your living room. Houseplants add freshness and liveliness which are needed for your rainy day decor. Topiaries are a great alternative to live plants because they don't require a lot of care while still looking very real. This potted fiddle-leaf fig plant will look amazing in your living room's entryway. A small orchid placed in a Cianna vase would simply exude elegance while also offering tranquility.
Get some pillows to stay warm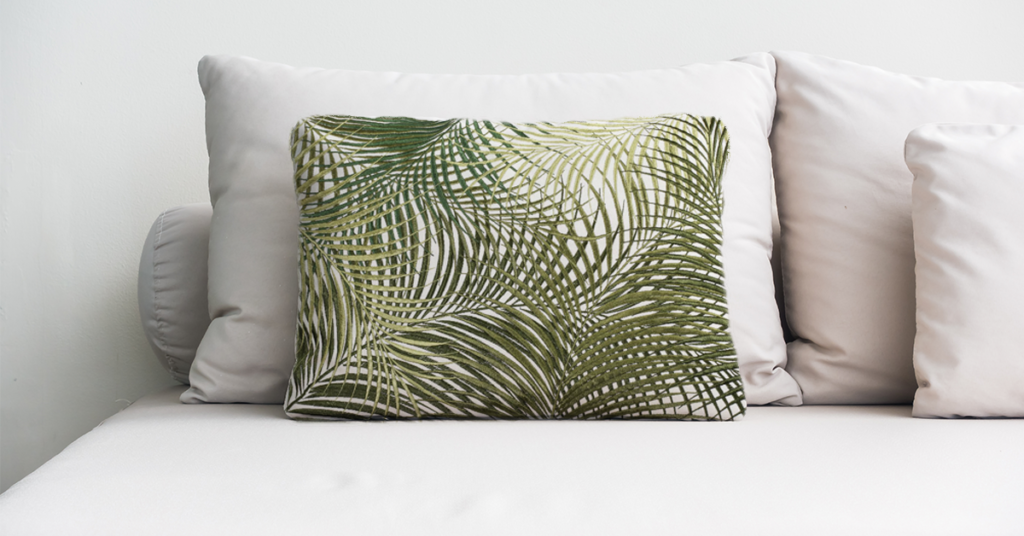 Admit it, it feels nice to stay in whenever it rains. What's cozier than this furry Lambo pillow to sink your head into on a cold night? If you fancy some color, best to complement the beauty of the outdoors by getting this leaf-embroidered Palmetto pillow.
Give your feet extra comfort with carpets
Normally, it's better to roll away your carpet during the rainy season because it easily grows mold with the humidity and is difficult to maintain with the wetness. However, carpets made with polyester are moisture-resistant, so they are very easy to clean without damaging their surface. Carpets are a great way to add a layer of texture to your classic home decor, so don't let the monsoon stop you from using them! Oaklane has a selection of polyester carpets you can choose from—make sure you check it out.
Be practical when shopping for your coffee table
Wood-finished furniture is not good during the rainy season because it gets damaged by the humidity; so, switch your wooden coffee table to a glass or marble top with a metal frame like Oaklane's Piera coffee table to add beauty and luxury to your rainy day decor.
Keep Your Home Warm and Styled with Rainy Day Decor
Don't be afraid to embrace your creativity when styling your home for the rainy season. The key is to strike a balance between comfort and aesthetic—get that and you're good to go!
For more fun, high-quality home decor elements you can transform into rainy day decor, check out Oaklane's full catalog and snag pieces that best complements your style.
---
Join our newsletter to get updates on new products and the latest blogs for home improvement!
SUBSCRIBE