Living room decoration can both be the most exciting and most terrifying task when thinking of ideas to improve your home. The living room is one of the biggest parts—if not the biggest—of your home. It is the first room that you will showcase to your guests and certainly the most used space by your family.
With these in mind, you should know how to effectively decorate your living room to make it functional without compromising your style. Whether you opt for sticking with classic home decor or going bold with the metallics, make sure that you're able to utilize the entire space wisely.
In this article, let home decor specialists from Oaklane give you decorating tips to make your living room decor look styled for the stars.
1. Get the right measurements
The first step in decorating any room is to know the exact size of the space that you're dealing with. Purchasing furniture that's a little too big for the living room will be a setback in your living room decorating project.
Knowing the right measurements of your space will make it easier to get an accurate assumption of the perfect size of the things you will need to get, such as the couch, console table, and rug, among other things.
Completing this first step will save you a lot of time spent returning the furniture and repurchasing a replacement piece. During home decorations, it's always fulfilling and more encouraging to get everything right the first time as opposed to starting over again.
2. Work with your lifestyle…
Your living room mostly serves as your entertainment area for your guests, but also your hangout space with your family. Make sure that your living room is designed with your lifestyle in mind.
If you want conversations to flow easily in your living room, ensure that the distance between the sofa and other seats is placed properly to make it possible. If you like to read, place a cuddler chair by the window or at the corner of the room farthest from the TV. If you have children, opt for leather upholstered furniture that is easy to clean and maintain.
3. …without compromising your style
Just because you're decorating for function doesn't mean your living room has to be drab. You can still showcase your own personal style with classic home decors that are both practical and elegant.
Small pieces like this Big Ben miniature decor, when placed on your coffee table, can show your love for traveling. If you prefer bigger statements, you can invest in this Foggy Streetscape wall art to add a home decor trend to your living room design. If you enjoy reading, install open shelving on your wall to store your collection of books that can serve as the backdrop of your mounted TV.
Hone in the interior design theme you'd want to stick to and choose home decor elements and pieces that will complement it.
4. Go for multifunctional pieces
Since your living room is the most multifunctional space in your house, it only makes sense to have pieces designed similarly for varied functions. If you have a smaller space, choose a sofa that can be transformed into a bed in the event that a guest unexpectedly needed to stay the night. Use an ottoman as a center table to have immediate extra seating when guests overflow the house.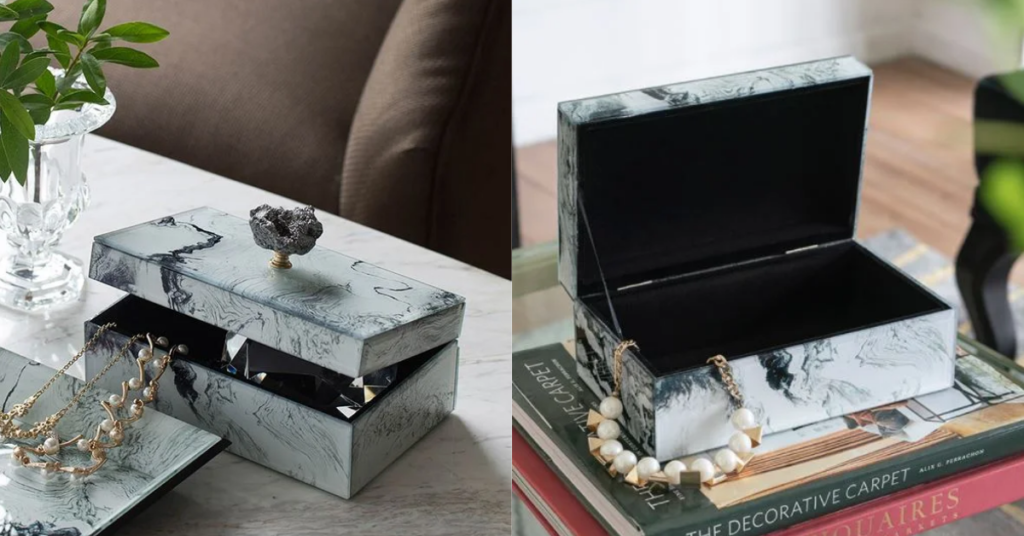 Speaking of multifunctional pieces, this Lalie storage box works effectively to beautify your living room on its own with its marble finish and crystal handle, but it could also store your jewelry and other trinkets.
5. Don't forget about the lighting
Lighting is one of the most important elements in home improvement. The right lighting adds another dimension to a room, creates cozy areas, and highlights particular spots in a room that you'd like to emphasize.
Table lamps make the most sense in this case as it doesn't add to the use of floor space and prevents anyone from tripping on misplaced wires.
Add a pop of color to your classic home decor when you use this Carmen study lamp in baby pink or pastel blue. If you want to stay true to a sophisticated interior design fit for the stars, this Shera study lamp in white and rose gold finish proves to be the perfect functional accessory.
Make Your Living Room Noteworthy
Remember that living rooms don't have to be one-note. Try to enjoy the process of redecorating. If you find it too troublesome, don't hesitate to review these decorating tips for the living room.
Oaklane Philippines is a leading shop for your home decor needs, both for function and flair. Visit our website to find high-quality home decor pieces that suit your style.
---
Join our newsletter to get updates on new products and the latest blogs for home improvement!
SUBSCRIBE